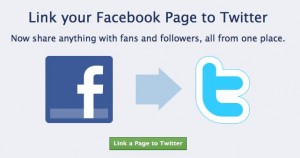 There are dozens of ways in which you can keep your fans up-to-date on what is going on with your business or organization. The advent of social networking sites and micro-blogging are easy ways to keep people interested and informed on what's happening and involve the public as well as reaching a broader audience.  This is an simple way for you to create a social presence and increase the popularity of your business or organization.
By far, the most popular sites that companies use today are Facebook and Twitter. Facebook and Twitter allow your group or product to offer promotions, and interact in a conversational format with fans, thereby creating a visible online presence and effectively advertising for free.
The problem with having multiple options for social networking is that administrators would have to update each site individually. In 2009, Facebook announced that they would be making it possible for fan pages to share their updates more easily. By creating an application that allowed administrators to post to Facebook and update Twitter immediately, administrators could now effectively update two social sites with one post, saving significant time and hassle and reaching a wider audience.
The time to link your social sites is now. The sooner you can reach more fans at once, the more effective you can make your online presence. Though there are many ways to do this, the following method seems to be the simplest way to link Facebook to Twitter. After installing the following application, you will be able to post updates from your Facebook fan page to Twitter automatically.
How To Automatically Update Twitter From Your Facebook Fan Page
1.Log into your Facebook profile
2.Paste the following url into the browser once you are logged in http://www.facebook.com/twitter/ and hit enter, this will take you to the Facebook to Twitter application.
3.You will see a list of the pages you manage. If you are an administrator of the page, you may now begin the process of linking Facebook to Twitter.
Note:If you are not an administrator, you must log into the fan page you are planning to link and make yourself an administrator. Once you do this, you may log out of the fan page and log in as yourself. Then you would complete step two.
4.After you have made it to this step, you must click on the "Link to Twitter" box next to the page you are planning on managing.
5.The page automatically redirects you to Twitter where you can enter your login information for Twitter.
6. Fill in the information and click "Allow". After a few moments, you will be redirected back to Facebook, where you can now edit your settings.
7.Check or uncheck the boxes that you would like to post to Twitter and hit "Save Changes"
A word of caution – be sure when editing fan pages that you manage that you click on account and choose the page to manage to keep your profile separate from your fan pages.