As with all applications on Facebook, it is good to note that fan pages are much different than personal profiles. It is also important to also be aware that you need to have a profile as an administrator on a fan page to add most applications as well.
Adding YouTube to your fan page is easy to do as long as you are an administrator of your fan page with your attached profile.
Update – July 2012
As with all social media, updates and changes are constantly being made to either fix bugs and/or to create a more user friendly environment. For this reason, it is important that you stay current on what does and does not still work when dealing with apps and tabs on Facebook.
In March, we were all happy or dismayed with the changes implemented by Facebook in regards to the new timeline feature. Other aspects of Facebook changed as well and many otherwise useful apps became outdated. From landing pages to YouTube, things are and continue to change.
Since we first made reference to YouTube connecting with Facebook, many new options for connecting have been developed, though the Involver Tab is still considered one of the best and is free. To use this tab, simply login into Facebook and choose the YouTubeApp from Involve, you can find it here: http://apps.facebook.com/involver_appjgeph/ and choose to install it. If you have never used the app before, you will be asked to enter your company name and phone number and accept the terms of service. If you manage more than one fanpage, all you have to do after this first time is to add it to a new page from your already added apps and edit the user/channel name to fit your current fanpage you are editing.

You will be asked to continue as yourself as a page administrator and will be given the option to add the tab to the fanpage you manage. You can personalize all options including whether to post directly to your wall. All you have to do is fill in the channel name and other options and click ok. As with all Facebook apps, this one will be listed with all other apps on your page once it is installed. You can click on the YouTube for pages icon to edit all the features as you can see in the image below.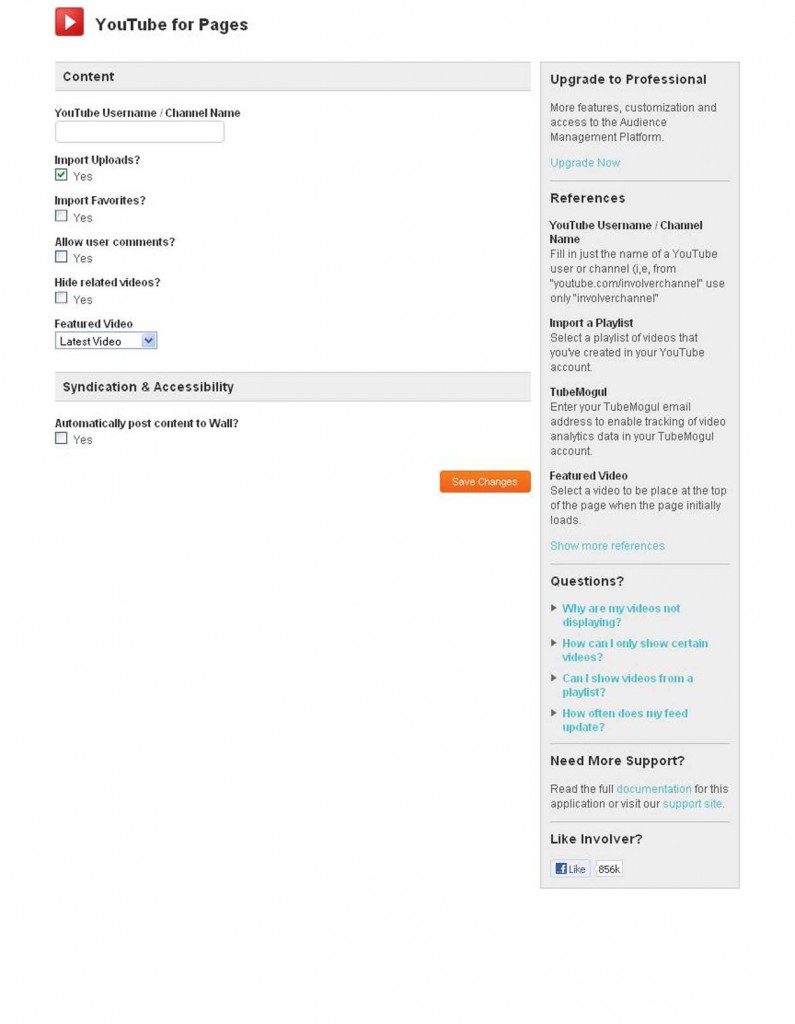 Other YouTube tabs that others are using include the following:
YouTube Tab by Tabfusion
YouTube Video Box
Youtube Video Gallery by Appaddictive
tabappforyoutube
Many of the new YouTube options come at a cost and have different options and features. Have you tried any of these other apps or have one that is not listed that you have found works well? We welcome your feedback as always.